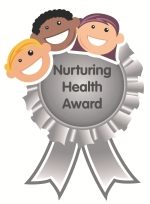 Congratulations to Steph and the team at our Stafford Nursery who have achieved a 'Platinum Nurturing Health Award' from Stafford Borough Council. We were invited by the Mayor of Stafford to collect the award and receive recognition for all of the hard work and success, in not only achieving the award, but gaining 'Platinum', the highest accolade.
The Nurturing Health Award Scheme is produced by the 'Live Well, Be Well' in Staffordshire, which has local government and local health authority representation. The award recognises those Childcare providers who offer healthy lifestyles to children and their families by creating varied and balanced diet menus which meet the nutritional needs of children under 5 years of age. The Platinum Award recognises that Honeybuns are providing excellence in the provision in terms of nutrition, physical activity, health policy development; health related learning activities, partnership with families and staff involvement.
Well done to everyone!